A Trampoline is not just for summer !
Here at Parts for Trampoline's we like to encourage jumping fun all year round
We love to see children and the grown-ups out on the trampoline in any season, so bundle up and get out for some happy bouncing fun.
There are so many benefits to using the trampoline all year round such as keeping physically active, staying warm and of course if it snows this year  you could always build a snowman to guard the trampoline for you.
Some customers tell us that they dismantle and store the trampoline away for the winter, but some don't have the space to store it or wish to keep using it all year round, so here are some tips on how you can protect your trampoline for the winter and avoid an excess of weather damage.
There are special tie down kits that will anchor the trampoline into the ground to help prevent it from moving during high winds. Wind is the main concern for winter trampoline care as it can cause poles to bend or the entire trampoline can take flight or tumble and could travel in high winds or make its way to a neighbour's garden ! (see our example pic below)
If we do get heavy snow this winter this can build up and cause the springs to stretch so you can avoid this by brushing snow off the jump mat with a sweeping brush, snow itself will not damage the trampoline frame
Avoid using a shovel to remove any snow, leaves or debris from the trampoline as this can rip the jump mat
You can also purchase a trampoline all weather cover that is a great way of protecting the jump mat, padding and springs (note however you would need to temporary remove your enclosure netting and poles to fit this fully)
Be careful when jumping after heavy rain as the mat could become slippery so ensure to wipe the surface dry before allowing jumpers on
If using it in cold/wet weather, wear layers of socks and even plastic back in between them to stop the cold coming up into your feet, it works a treat.
To conclude however as our winters are generally quite mild, we see no reason why you and the little ones can not bundle up warm and have some jumping fun.
Keep jumping safely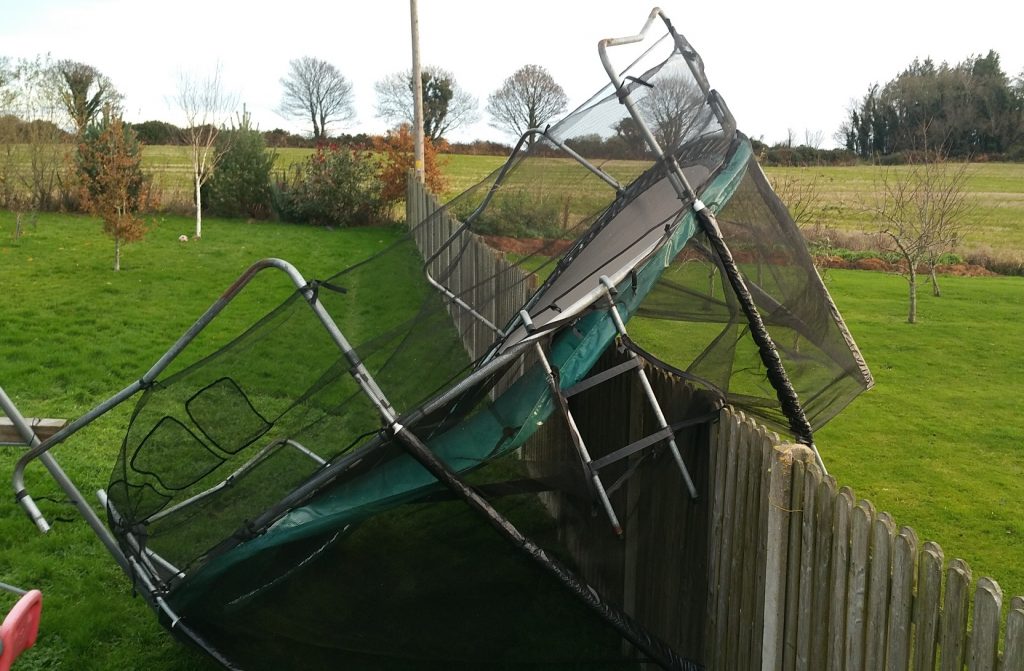 Remember when the winds do this to your trampoline, we have all the parts to repair it and get you back Jumping Safely