Upcycling is a trend that has exploded in the last decade due to people being more conscientious of waste. Upcycling represents a variety of processes, which change "old" products into a "new" product that has a different purpose, subsequently giving the product a reincarnation beyond its original purpose. In other words, upcycling is about materials or items that get to be re-adapted and/or re-purposed in a creative way, therefore creating an extended lifespan.
Trampolines are the perfect products to upcycle, due to their size, and simplicity of design. When unassembled, they are mostly different length metal poles that fit perfectly into one another. Partsfortrampolines.com makes it possible to fix and extend your trampoline's life, but sometimes trampolines can be slightly beyond repair. For those occasions, we have listed and explained the 5 best way to upcycle your trampoline.
Swimming Pool
A great upcycling use of old frame and the jump mat could be used on ground under also is to make a low cost swimming pool from the frame structure, makes a fantastic reasonably deep pool on larger trampolines and an ideal paddling pool on smaller structures. There are many videos on youtube and other channels showing some methods to do this, we think this is one good example although may not be in your native language the visual gives enough information and is delivered quickly with sped up video to give good basis of understanding how to achieve this. If you have a trampoline cover this could be handy for stropping leaves and insects etc gathering on it when not in use.
Arbor
Another thing that is more of a long term product, is an Arbor. An Arbor is something that is used as a feature of the landscape, that is often used to grow climbing plants onto. In the picture below, we can see that they used their trampoline to act as a shade cover to a seating area. Once the plant grows over the poles this will look perfect, very innovative, and a great use of unused poles.
Grow Tunnel
Staying on the topic of horticulture, this crafty person reused their trampoline frame into a grow house. With a small bit of wood and plastic covering, they were able to create a grow house for their garden. Extremely crafty way of using the trampoline frame to create support for the grow house!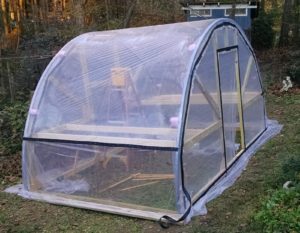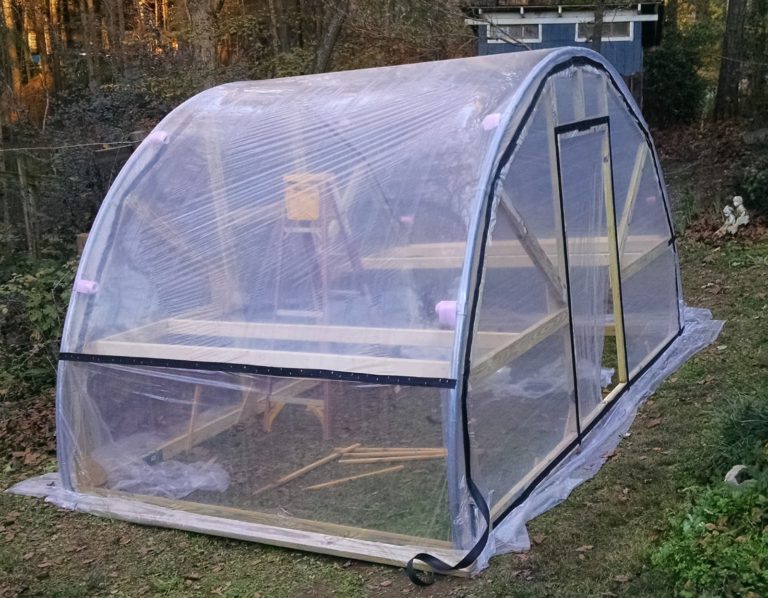 If this seems a bit too complicated, the trampoline frame can also be propped up against the wall, and used a pot hanging frame; as pictured below.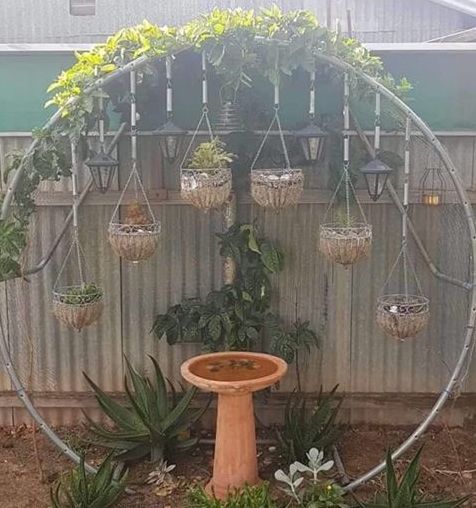 Hen Coop
A secure hen coop is essential for keeping your hens safe if you want to have them in your garden. A large hen enclosure can be quite costly, but this clever upcycle of a presumably unused trampoline is a good way of avoiding that cost. The hens can live happily within the boundary of the wired in trampoline, and the mat serves the purpose of a sunshade if you're in a hot country.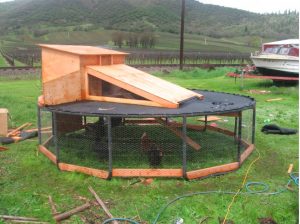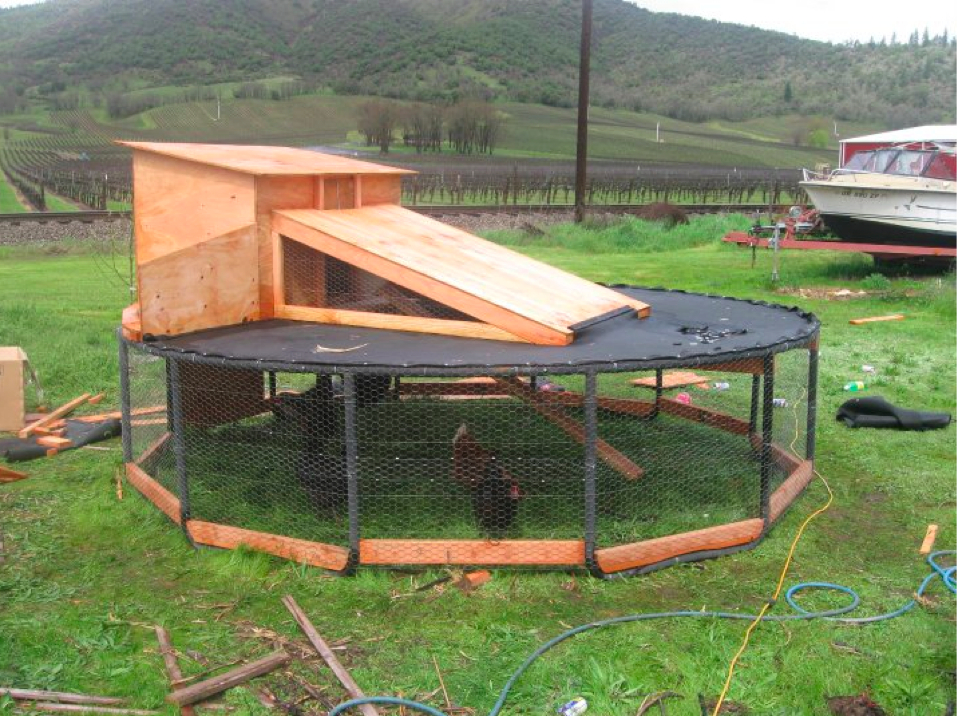 Movie Screen
This requires a projector, but a spraypainted trampoline propped up against a tree can make a perfect movie screen for an outdoor showing. It could even be used to show images to family and friends from a recent holiday or event.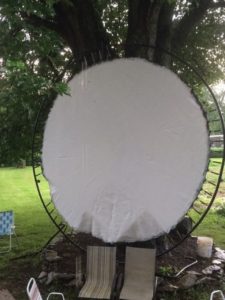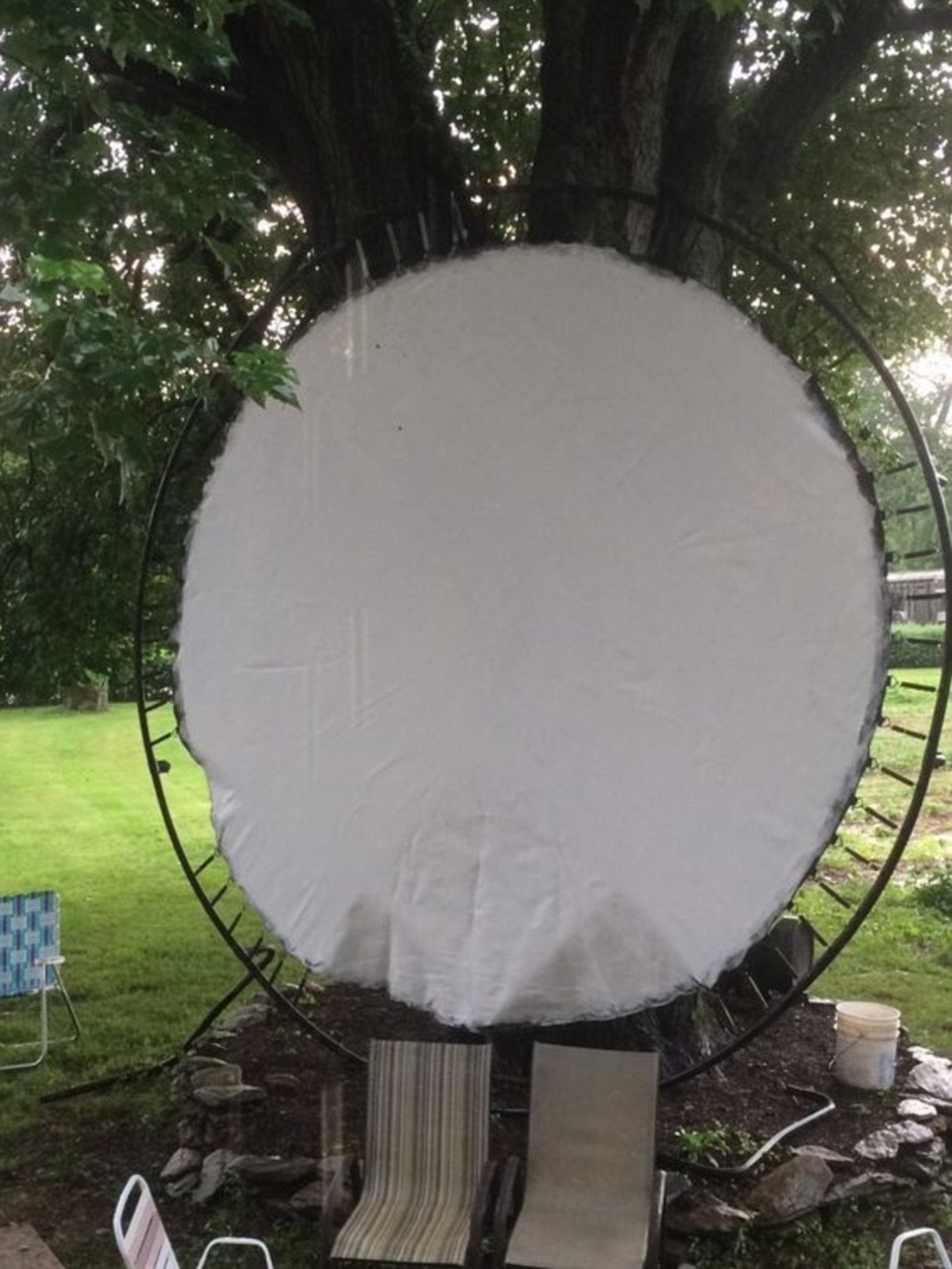 These are all undeniably great ideas, in comparison to leaving your trampoline dormant in your garden or dumping it. We would always urge people to replace broken parts rather than buying a new trampoline to circumvent unnecessary waste and expenditure.