Jump Mat for 8 ft Trampoline Frame with 48 eyelets (for 7" springs)
Product Code: J-8-48
Availability: In Stock
Or Call to Order:
Ireland: 021 435 4518
UK: 0151 433 2772
Int: +353 21 435 4518
Spare Trampoline Jump Mat to fit an 8 ft (243cm) circular trampoline. This replacement Trampoline Jump Mat has 48 eyelets to hook on to your existing springs. If you have more or less springs please space mat evenly for the number of springs you have.
This Jump Mat is designed for an 8 ft trampoline with 7 inch size springs.
Note: To check your spring size please remove spring from trampoline and measure full length from hook to hook.
This product is the bounce mat ONLY, no springs are provided but we can provide replacement springs seperately in our Springs category.
This is a durable trampoline jumping mat that provides excellent bounce performance.

Trampoline Sizing
Trampoline Frame Size (diameter)
8ft
Spring size (length)
7"
Number of Eyelets
48
To correctly measure the Jump Mat, you need to measure the frame size of your trampoline. You also need to measure the spring size of your springs from hook to hook ensuring it is not stretched. The most usual lengths are 5.5 inches or 7 inches. We can currently supply jump mats for 8 foot, 10 foot, 12 foot, 13 foot and 14 foot trampolines in either 5.5 inch or 7 inch spring sizes. The number of eyelets on your mat can be counted also however, if this number differs by a few or even up to 8 or 10 from universal replacement you can just space the springs out and it will still be a successful replacement fitting.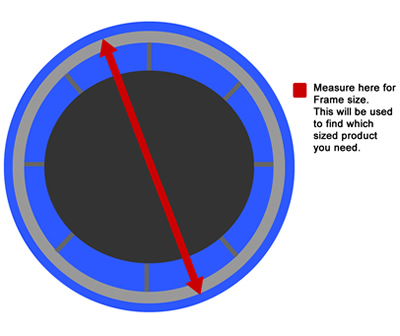 Related Products
Tags: 8 foot, Replacement Jump Mat, 7 inch Springs, 48 eyelets, for sale, trampoline parts